Ravi Takhar coordinates a daunting selection of craft beers at IBU Taproom & Bottle Shop. Photo by Michael Cabana.
One of the first things people notice when they look up IBU Taproom & Bottle Shop in Milpitas is that the six-month-old craft beer bar has no phone. Anyone interested in finding out what's available on the 50 taps, or what's featured in the rotating selection of 250-plus brands of cans and bottles, has two options: Facebook Messenger or get off their keister and inspect the library of beers in person.
"We started with a cellphone," says Ravi Takhar, IBU's beer coordinator. But then he trails off, shakes his head and smiles. He doesn't need to finish. It's obvious: He was wasting precious time talking about beer when he could be doing something like, say, stocking and serving beer.
Opened as an expansion to the neighboring 20-year-old Stuft Pizza franchise on Dempsey Road, IBU (an abbreviation for the measure of a beer's bitterness) has deservedly received rave reviews by giving people a mind-blowing number of options. "We're big on options outside of IPA: sours, stouts," Takhar says. "There's always some new style that we have on tap."
Then there are the TVs. IBU and Stuft owner Ladi Musafar have made a combined commitment to put together more pixels per square foot than just about any bar and restaurant in the South Bay. In total, there are more than 30 screens to make sure guests can see the game from nearly any angle.
Check out SanJose.com on June 8 for a video featuring IBU beer coordinator Ravi Takhar's tips to drinking well this summer.
IBU Taproom & Bottle Shop
1422 Dempsey Rd, Milpitas | facebook.com/IBUMilpitas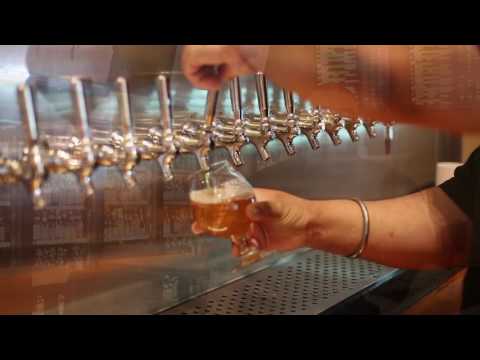 Forager Tasting Room & Eatery
420 S First Street, San Jose
408.831.2433 | sjforager.com
With plans to build six kitchens and a microbrewery in the next 18 months, this huge brick and mortar space offers 16 taps in constant rotation while championing local craft beers. The former billiards hall also doubles as a spacious venue for artists to showcase their work.
Golden State Brewery
1252 Memorex Drive, Santa Clara
408.727.2337 | goldenstate.beer
Golden State Brewery should be a first stop for dog and beer lovers. Beer flights are welcome, as are man's best friends. Bonus: Good boys get their picture added to the GSB Dog Wall.
Good Karma Artisan Ales & Café
37 S First St, San Jose, CA 95113
408.294.2694 | goodkarmasj.com
A gift from the vegan gods, Good Karma's rotating taps span the South Bay to our neighbors in San Francisco to friends in France. Usually a heavy selection of IPAs but also a sour or two.
Harry's Hofbrau
390 Saratoga Ave, San Jose
408.243.0434 | harryshofbrau.com
Harry's has more than 25 taps along with enough bottles of beers to get a small horse to take Uber home. While it might seem German is the name of the game, Harry's actually puts an emphasis on local craft beers.
Hapa's Brewery
460 Lincoln Ave, San Jose
408.982.3299 | hapasbrewing.com
One of the newer brewers to the South Bay, Hapa's seems to be adding a new beer to its resume every couple weeks. Try their newest IPA before hopping outside to choose from a rotating selection of food trucks that hang near the brewery.
Hermitage Brewery
1627 S Seventh Street, San Jose
408.291.0966 | hermitagebrewing.com
Hermitage has been brewing beer since the '80s, but it only recently started getting the recognition it deserves. 2016 netted the brewery three awards for in-house creations. We recommend the Maltopia Scotch Ale and Sour Cherry Sour.
ISO Beers
75 E Santa Clara St, San Jose
408.298.2337 | isobeers.com
The bar and bottle shop doesn't have a kitchen, which makes the BYOF (bring-your-own-food) policy a welcome accommodation. Customers are almost certain to stumble upon something new each visit.
Jack Holder's
3153 Meridian Ave, San Jose
408.613.2365 | facebook.com/Jackholdersrandb
The food may be the draw for some—the restaurant and bar is owned by the same folks responsible for the four Holder's Country Inns scattered across San Jose—but the drink menu here has a couple of local gems, including favorites like Hermitage's own 408 Session.
Loma Brewing Company
130 N Santa Cruz Ave, Los Gatos
408.560.9626 | lomabrew.com
Hot off catering BottleRock in Napa this year, Loma Brewing Company is no average pub. In addition to brewing their own selection of craft beers, the brewery also holds events such as Oktoberfest and Yoga & Beer night.
Liquid Bread
379 E Campbell Ave, Campbell
408.370.3400 | liquidbreadcampbell.com
It's not even remotely possible to taste everything this delectable gastropub has to offer in one visit, and the same goes for the huge craft beer selection. Single tasters go for $3 while three-beer flights offer an alluring variety at a reasonable $7. Go bold on at least one, like the Altamont Mac Drizzle with Toasted Coconut (Nitro).
Rabbit's Foot Meadery
1246 Birchwood Dr, Sunnyvale
408.747.0770 | rabbitsfootmeadery.com
Using honey just about whenever they can, Rabbit's Foot stands apart from most brewers in taste and style by creating their own meads and ciders. The space may be humble but the taste is anything but. The brews have won a slew of awards, both domestic and international, and the Chocolate Raspberry Love—poured over ice cream—tops out at whopping 18 percent alcohol.
Santa Clara Valley Brewing
101 E Alma Ave, San Jose
408.288.5181 | scvbrewing.com
Namaste and cheers! Santa Clara Valley Brewing has their own twist on the Yoga & Beer trend every other Sunday. After praising Ganesha, guests can sample any of the bar's countless house brews. Most beers' names give a local nod, such as the Valley Surprise Double IPA.
South Winchester BBQ
1362 S Winchester Blvd, San Jose
408.376.0485 | swinchesterbbq.com
Most customers first visit South Winchester BBQ with little more than lunch on the brain. Luckily, South Dub keeps eight brews on tap and an array of bottles and cans available.
Spread Deli & Bottles
193 E Campbell Ave, Campbell
408.340.5549 | spreadcampbell.com
Sandwiches like the opulently named Duchess come in at a hefty $14, but the delicious combo of fried sliced turkey, pastrami, cheddar and black garlic aioli make it worth the price—plus, it's comfortably split between two people. Wash it down with a competitively priced draft or one of several scores of bottled and canned options. Drinks are discounted when purchased to-go.
Strike Brewing Co.
2099 S 10th St,San Jose
877.855.8620 | strikebrewingco.com
Strike could only exist in the 21st century. The brewery successfully tapped locals for support after putting up a Kickstarter to build the taproom in 2014. They've also collaborated with the likes of Santa Cruz Skateboards to make a blonde ale that has become one of their most popular.
The Tap Room
233 University Ave, Palo Alto
650.752.6132
The merits of this pub are obvious, even for those of us who don't attend Stanford. Also doubling as a tap room for Palo Alto Brewing, the draw here is a happy hour that usually features a specially discounted beer of the day. PABC specials include Hoppy Ending Pale Ale, Cool Beanz Coffee Porter and their Atlas Double IPA.
Taplands
1171 Homestead Rd, Santa Clara
408.709.2990 | taplands.com
Open for just a bit more than a year, Taplands gave a stamp of authenticity to the Mission City's craft beer scene. The bottle shop and taproom also brews one 15-30 gallon batch at a time to keep an exclusive craft beer on hand.
The Halford
1494 Halford Ave, Santa Clara
408.243.1290 | thehalford.com
Home to 71 beers and six wines on tap, the Halford's drink menu is nothing to sneeze at. They use their short-draw pour system to ensure that drinks only get warmer once they're in customers' hands. They've also got a killer happy hour with $5 pints every Monday-Friday from 3-7pm.
Original Gravity Public House
66 S 1st St, San Jose
408.915.2337 | originalgravitypub.com
In addition to having hands down the best hot links and gourmet brats in San Jose, Original Gravity has made its bones by maintaining one of the best beer selections in town. Staff is friendly and helpful and the 35 rotating taps always have one saison that stands out.
The Running Shop
17500 Depot St, Morgan Hill
669.888.3900 | therunningshopandhops.com
Housed in The Granary in Morgan Hill, The Running Shop doesn't have time for beer bellies. Choose from their 86 draft beers—that's not a typo—before sauntering into the athletic section to stock up on running shoes, which will be perfect for burning off those tasty calories.